A Lanai veranda can help you to make the most of your garden.
We all know the weather in the UK can be temperamental but a glass roof veranda can transform a patio.
Shelter from the elements and relax on your patio with an outdoor entertaining area.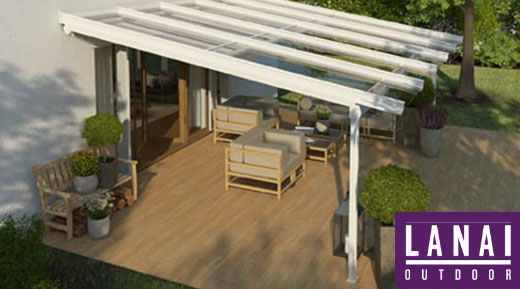 Why Choose a Glass Roof Veranda from Lanai Outdoor?
Enjoy Outdoor Living
Our sleek designs can transform the look of your garden, offering a touch of elegance and sophistication, as well as functionality and a new dimension to your home. Offering the ideal area to entertain guests and enjoy an al fresco dining experience, you'll be able to relish your outdoor space like never before.
High Quality
We use only high quality, long lasting and durable materials for our structures with 100% shatterproof glass to ensure your safety is protected. Unlike old style gazebo's and material canopies, our glass verandas will remain sturdy through all-weather types and keep your patio furniture dry through rain and snow. We're so confident in the durability of our structures that we also offer a full 10 year guarantee on all of our glass verandas.
Bespoke Designs
A Lanai veranda glass roof offers an elegant and seamless look.  With so many variations available, we can work with you to adapt effortlessly with most types of building types/structures.
As the construction type is modular, it allows you to start with a basic veranda glass roof and then add glazing elements or shading products to the sides if required.
All of our projects are bespoke in order to fulfil your exact desires in terms of not just style but functionality and price too.  Our UK based design team work with you to provide the ultimate solution for your outdoor living space, you're sure to find just what you are looking for.
A Lanai veranda is an elegant construction, attractively designed with high durability. There are numerous versions available and it is suitable or use with many different types of houses.
The modular construction of the glass roof veranda allows you to start with a basic roof and add side glazing elements, shading products or accessories at any time in the future.
Construction
The Lanai Glass Roof Verandas stand out for their exceptional stability and durability. They are a rigid aluminium construction which is corrosion-proof thanks to the profiles and stainless steel screws. With such a strong construction, the glass roof veranda is snow bearing up to a load of 550kg with roof depths of up to 6m.
LED Light Bar
Extend the use of your veranda with light bars. These can be wall mounted or fitted to the roof support depending on your preference. With the addition of lighting, you can create a warm atmosphere into the late evening. These LED lights are radio-controlled with dimmer and have an operating life of 30,000 hours. If the lighting is ordered with your veranda then we are able to have the lighting bar housing in the same colour as your patio roof.
Option for Added Sun Protection
With the right form of sun protection for your glass roof veranda, the fabric will shelter you from the heat, glare and prying eyes.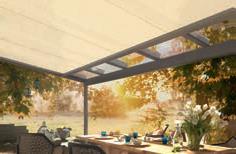 We can offer you anti-glare protection with an under mounted awning. With customisable sizes to create a good fit for any rectangular glass roof, which also provides ample air circulation.
Take a look at our range: Roof Blinds 
Roof Options
There are three roof models all equipped to match the façade to which they are being fitted.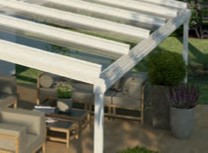 Veranda Roof Without Overhang
The basic model comes in a classic lean to design. This is ideal if you do not need an additional roof overhang. Please note that there is integrated guttering.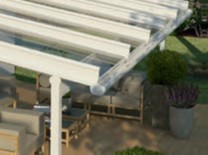 Veranda Roof With Roof Overhang
This option has a protruding roof on a slender frame which block rain falling at an angle. This veranda roof comes with pre-fitted guttering.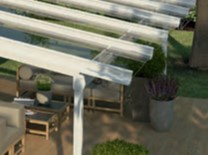 Or you can opt for a veranda roof with overhang and integrated guttering and downspout. This will help to ensure that rain drains off as it should.
Our design team will work with you to help you blend your veranda with the shape and appearance of any building facade, even on protruding walls and corner solutions.
We will be happy to explain to you which style of roof is suitable for your needs.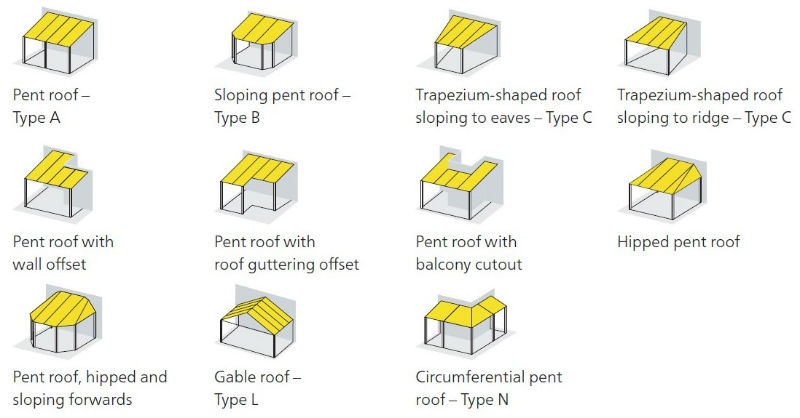 With a selection of over 200 different frame colours for you to choose from, you have a choice of diverse colours which harmonise with the architecture.
Identical colours – for a perfect match.
As all the powder coating is done at the time your bespoke veranda is produced, you can rest assured that your product comes with the same top-class colour tonality and identical gloss level.
Choose from an abundance of high quality colours:
47 standard RAL rack colours, silk gloss
9 scratchproof, resistant trend colours with an elegant textured look
over 150 special RAL colours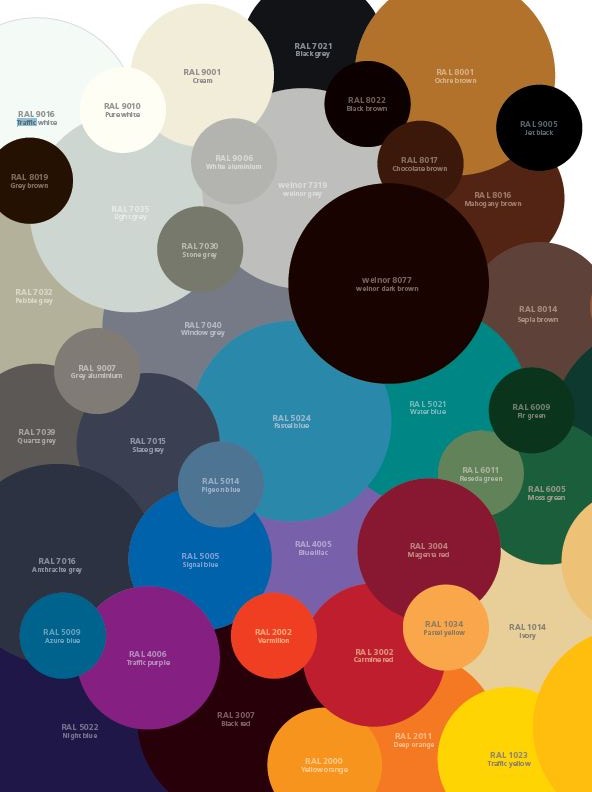 With a veranda over your patio you can leave out your garden furniture without the worry of it getting ruined.  Make your patio a more flexible entertaining space.
Recent Glass Veranda Installations
Nicola
2022-01-06T16:53:36+00:00
Glass Veranda, 2600mm wide with a projection of 2700mm. The customer was very happy with the new canopy!