Protect yourself against the sun, rain, wind or cold and enjoy.  Our stylish aluminium louvered roof canopies can allow in the sun or close the blades for a waterproof roof.
Converts your terrace into a more flexible outdoor space with remote controlled roof.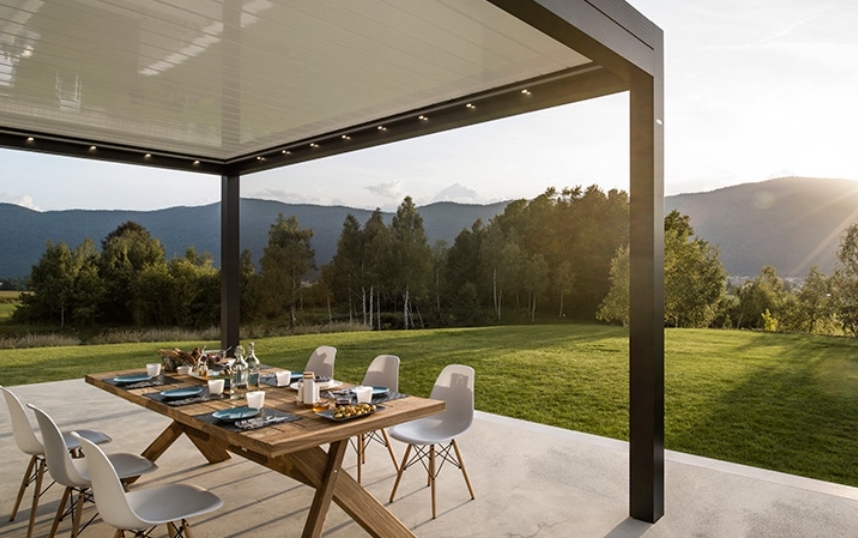 ~ click the images above to view in a larger format ~
Louvered Roof Canopies Information & Spec
NEW Louvered Roof Canopy with Retractable Roof
The new Lanai louvered roof terrace covering consists of a roof with rotating aluminium blades.  Thus offering ventilation when opening the blades whilst also offering maximum solar gain in winter with the retractable, sliding roof blades.
The 145° rotatable aluminium roof blades are designed in such a way that the water is drained sideways towards the columns. The water drainage also operates when the blades are opened after a rain shower.  In the closed position, the roof is completely flat with no clearance between the blades.
Features of our Louvered Roof Canopies
With a louvered roof canopy in your garden, you have the advantages of a covered seating area whilst being in control of the amount of light or protection required.
Easy to operate –  operated by remote control, with silent working of the blades you can realise the ideal incidence of light and ventilation in no time.  When closed, the blades form a waterproof roof in normal showers.
Personalised for your use – with so many different options, create your own dream louvered garden canopy to enjoy from early in the morning until late in the evening. Your additional outdoor living space can be provided with lighting too.
With or without side panels – infinite customisation and endless personalisation options are possible by adding side elements. Moveable wall elements provide additional protection and an aesthetically beautiful finish. When lowered, motorised wind tight screens create a protective cocoon. Thanks to the partially transparent screens and optional crystal windows, the view of the garden remains.
Integrated water drainage – the gutter system drains the rainwater away towards the columns. The patented blades are designed in such a way that the water is drained off to the side if the blades open up after a rain shower.
The ultimate combination of quality and design
This contemporary louvered garden canopy has an innovative and modular terrace covering featuring a horizontal sun protection roof with rotating blades.  In addition to the louvered roof, there are a selection of screen options to personalise your canopy with sides that suit your requirements. You can create a simple canopy only structure or fully closed off on all sides using the integrated windproof screens, sliding glass walls, sliding panels or a combination of these.
The roof is made of extruded aluminium blades that can be rotated to control the sun protection and ventilation based on your needs.  The blades can be easily operated using a remote control and are waterproof when closed.
The water is carried off to the columns via the integrated water guide channels. This water removal also works when the blades are rotated to an open position after it rains, so that the furniture on the patio stays protected.
By adding side elements, there are infinite possibilities for customisation.  Windproof, motorised sun protection screens are available in 50 colours and can be fitted with crystal windows.  Sliding glass doors can be integrated, as well as in combination with integrated screens.  Sliding panels offer another option and can be provided with the same fabric as the screens, in Western Red Cedar or aluminium blades.
A great deal of attention is also given to the quality of the finish.  For example, the fixation parts are practically invisible, all of the electrical cables are hidden and invisible floor mountings are also possible.
The high-quality materials and design keep maintenance to a minimum, while simultaneously guaranteeing exceptional sustainability.
The IRIS louvered roof canopy can be closed off on all sides using integrated windproof screens, sliding glass walls, sliding panels or a combination of these.
The IRIS is a range of terrace coverings with adjustable aluminium blades in the roof, so that you can determine for yourself how much light hits the terrace, while being protected from the rain when necessary. The classic finish, using decorative trim and lines in the columns, means that the IRIS provides a sustainable, maintenance-friendly solution with a beautiful, classic appearance. This terrace covering can be mounted to the wall or used as a stand-alone element, making it the ideal solution for a rustic or classic architectural style.
Various side elements are available to help you create your perfect garden canopy area.
Vertical windproof, motorised screens offer sun protection and privacy.
Sliding glass walls protect you from the weather and can create a completely enclosed space.
Enjoy integrated lighting so that you can remain outside when it starts to get dark.
Heating elements can be provided to add some warmth throughout the space.
With integrated flat panel speakers you can listen to your favorite music whilst enjoying your outdoor space.
Innovation ACOUSTIC INSULATED BLADES dampening the sound of rainfall.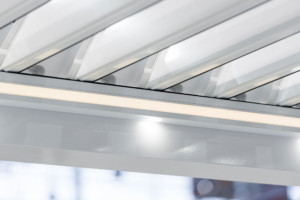 The Iris boasts numerous technical innovations including a unique 135o twist motion, which allows the individual louvre blades to remain in contact with the frame throughout the entire motion. This eliminates any light gaps, unsightly gutters or water leaks. In addition the down pipes are integrated into the frame posts allowing water to drain off the blades, into the gutter and out through the posts.
The product is available with a range of optional extras including sliding glass doors, outdoor blinds, three unique configurations of LED lighting and electric heaters. Internal blade insulation can also be added to reduce the sound of rain on the roof by up to 70%.
Features & Benefits
• Offers a complete outdoor room solution – add outdoor blinds, sliding glass doors, lighting, audio & heating.
• Freestanding or wall fixed configurations available.
• Blades able to rotate though 135o motion.
• Unique design allows the blades to remain in contact with the frame throughout the entire motion – eliminating gaps & water leaks (also allows the room to be enclosed with glass doors or PVC blinds & air conditioned if desired)
• Down pipes incorporated into posts.
• Extruded aluminium frame, blades & gutters – superior strength, durability & clean edges (unable to be achieved with folded or roll formed steel & Colour bond products)
• Adjust the louvres to any position within the 135o range to allow full or partial sunlight, release heat, capture cool breezes, or close for full protection.
• Choose from 5 stylish powder coat colours.
Operation
• Motorised (240v tubular motor) with remote control
A timeless design with infinite options for personalisation, this terrace covering adapts to suit your home.
Have open sides or completely enclose with sliding panels, glass walls or screens.
Create yourself a garden gym or even a stunning home office, meeting room or fabulous garden room for dinner parties.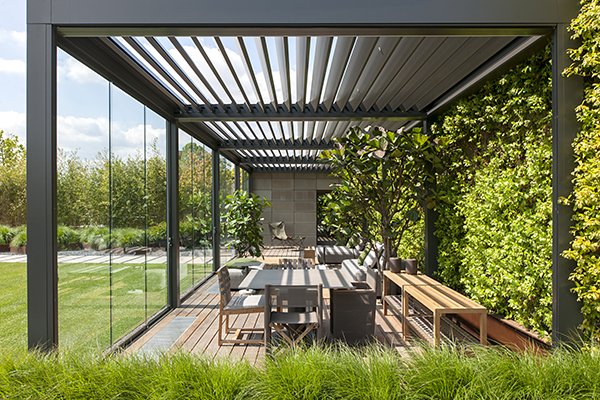 Recent Louvered Roof Installations
WBSupportKA
2021-11-27T20:14:43+00:00
New Iris from Lanai in Northwood Hills, HA1. Measurements are 5.5 mts x 4.5 mts and includes LED Lighting and heaters. Customers are very happy with new garden structure.