Lanai roof blinds guard against overheating and therefore help create a pleasant climate.
The proven quality and thousand times tested extending and tensioning technology makes then exceptionally resilient and guarantee a fabric that is practically crease-free.
For use under or over Lanai glass roof verandas and glass rooms.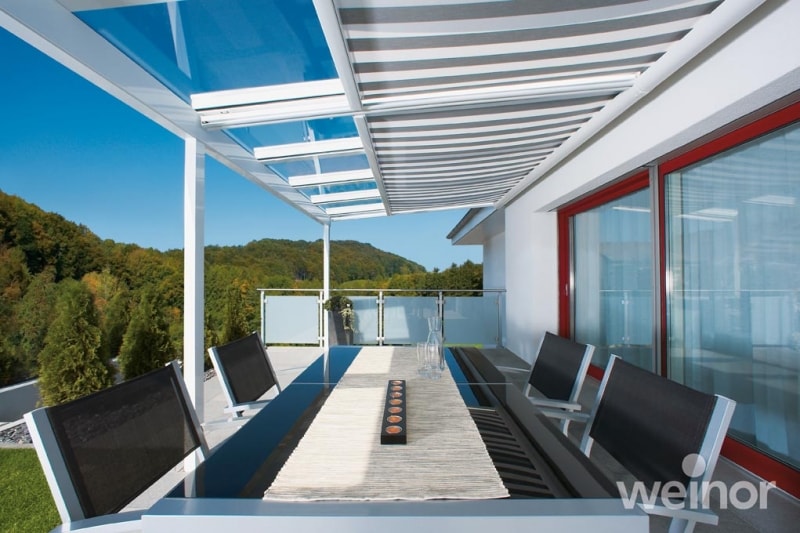 ~ click the images above to view in a larger format ~
Lanai Outdoor offer two types of awnings / roof blinds to go with your glass roof veranda or glass room.  You can either have an under-roof or over-roof awning/blind.
Due to the unobtrusive bespoke design, these robustly built awnings add an extra dimension to any or veranda/patio roof system.
The under mounted awning creates an attractive anti-glare screen and allows for ample air circulation.  The beautiful fabric can also create a cosy living space.
All products are measured up by our designers to they fit with the your glass room or glass roof veranda.
Both types offer you the following benefits:
it will help to guard against overheating in your glass room or under your glass roof veranda.
a huge range of fabric patterns and colours.
the high quality fabric is the basis of our beautiful awnings, with dye solutions that are created to stay colour-fast and have a dirt/water repellent nano coating.
Under-Mounted Awning
An elegant and attractive conservatory awning to be used beneath the patio roof. An under-mounted awning is especially suitable for our glass rooms and glass roof verandas, which guarantee an adequate air circulation and thus avert the formation of high temperatures due to their construction. The awning fabric comes into its own as it remains permanently attractive and give a cosier feeling. At the same time, it provides effective sun and glare protection.
Roof-Mounted Awning
A roof-mounted awning with guard against overheating and is robustly constructed.  These awnings can be retrofitted to virtually any roof type.  These awnings have a clever tensioning system to ensure that the fabric is taut at all times.  The carriage system with its precision rollers runs very quietly.  Large areas can be shaded using a multi-section unit.  These awnings are available in attractive and long lasting colours.  The fabrics stay colour fast and have a dirt and water repellent nanocoating.