Lanai Outdoor – Golf Clubs
The perfect addition for your establishment.
Lanai Outdoor have a range of commercial solutions offering a range of canopies, awnings and verandas to make the most of uncovered or unused outdoor space.
Whether adding sun protection or protecting your customers from inclement weather, we have a range of solutions for all types of businesses including bars, restaurants, hotels, shops or golf clubs.
Commercial Use – Restaurant in Brentwood, Essex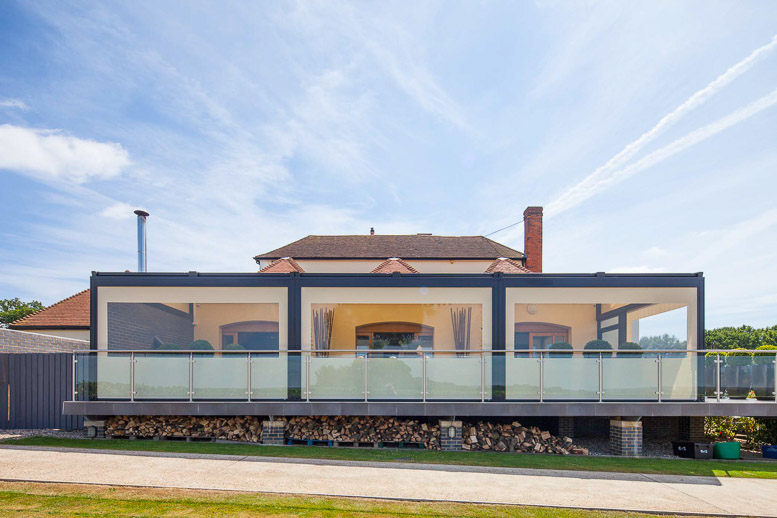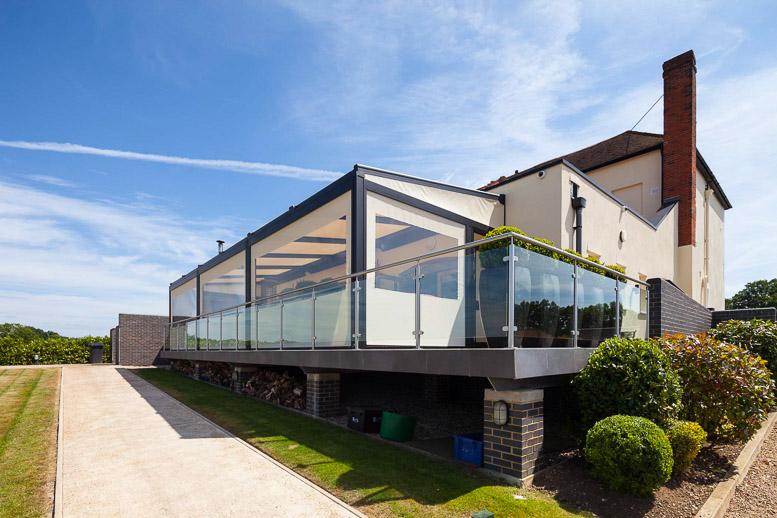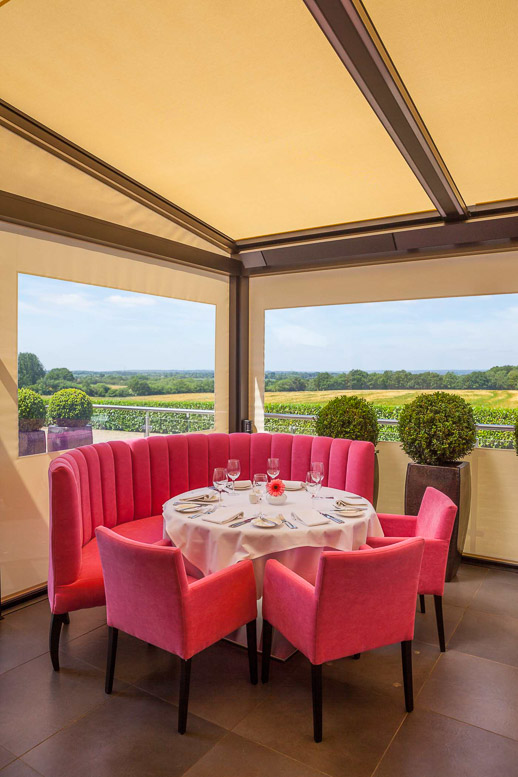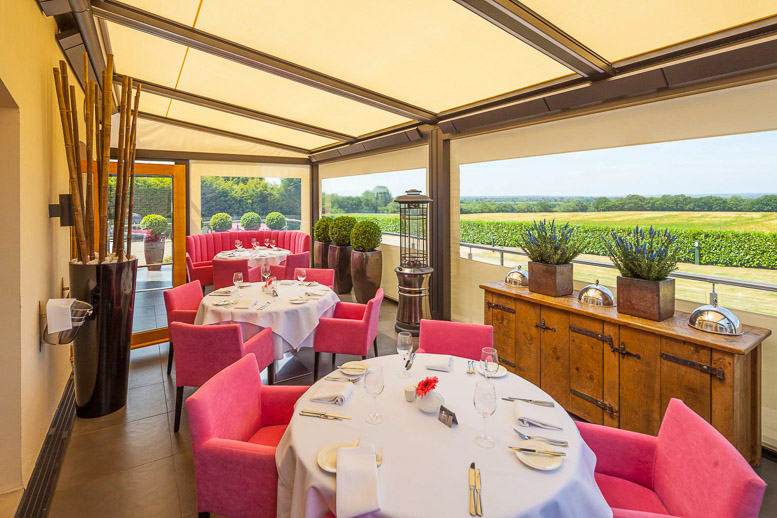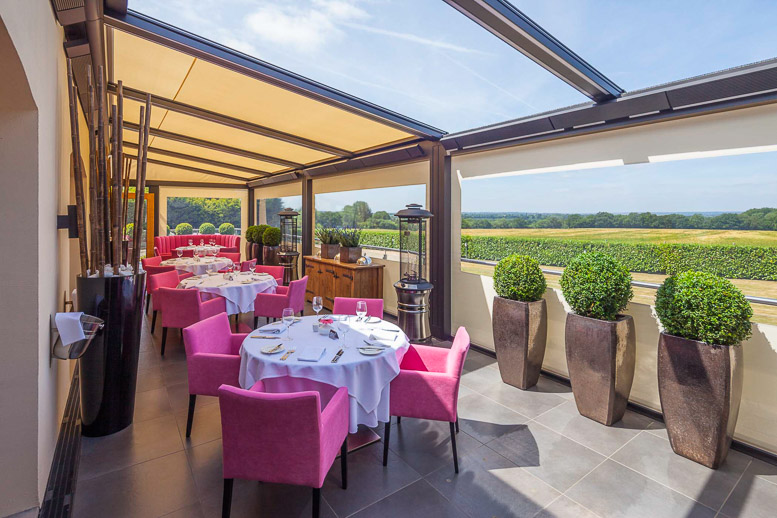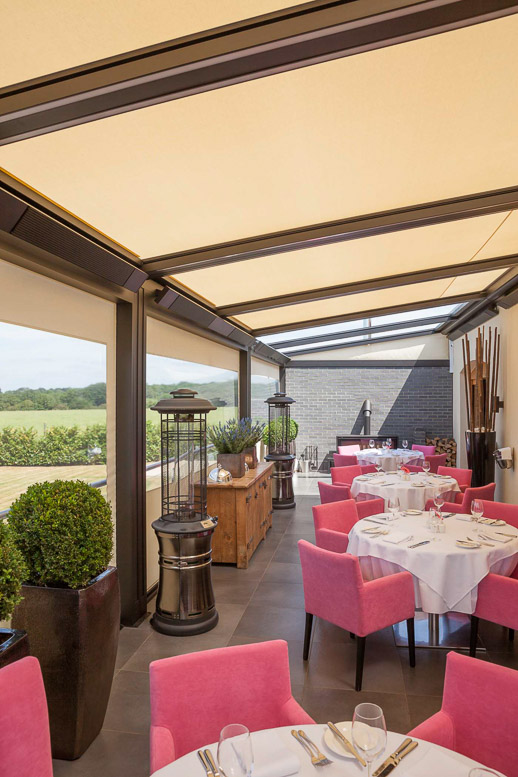 Lanai Louvered Roof Canopy
~ click the images above to view in a larger format ~
The Lanai Louvered Roof Canopy is an innovative and modular terrace covering with horizontal sun protection roof with rotating blades.  In addition to the louvered roof that can be closed off on all sides using the integrated windproof Fixscreens®, sliding glass walls, Loggia® sliding panels or a combination of these.
The roof is made of extruded aluminium blades that can be rotated to control the sun protection and ventilation based on the users' needs.  The blades can be easily operated using a Somfy remote control.  It is waterproof when closed.
The water is carried off to the columns via the integrated water guide channels. This water removal also words when the blades are rotated to an open position after it rains, so that the furniture on the patio stays protected.
By adding side elements you created infinite possibilities for customisation.  Windproof, motorised Fixscreen® sun protection screens are available in 50 colours and can be fitted with Crystal Windows.  Sliding glass doors can be integrated, as well as in combination with integrated Fixscreens®.  Loggia® sliding panels offer another option.  These can be provided with the same fabric as the screens, in Western Red Cedar or aluminium blades.
A great deal of attention is also given to the quality of the finish.  For example, the fixation parts are practically invisible, all of the electrical cables are hidden and invisible floor mountings is also possible.
The high-quality materials and design keep maintenance to a minimum, while simultaneously guaranteeing exceptional sustainability. 
Lanai Commercial Glass Rooms, Verandas & Awnings
~ click the images above to view in a larger format ~
Commercial Solutions
Pubs, Bars, Restaurants & Cafés
Whether adding sun protection to an outdoor seating area, protecting your customers from inclement
weather or extending your restaurant space, we can help make your customers feel at home. Sign-writing options also make the products perfect for advertising.
Hotels
Offer your guests a comfortable environment that they can use around the clock to enjoy breakfast outside on a spring morning, a drink before dinner or enjoying a relaxing afternoon. The addition of heating or LED lighting makes the most comfortable of places even more usable.
Shops
The most traditional form of shading, weather protection and advertising for the high street. Shops use
awnings to protect from sunlight and glare, to protect stock in the shop window. The addition of sign writing to the valance or main cover adds an extra message to your customers.
Education
From protecting young children from dangerous sunlight to giving them a sheltered spot to play outside when it is raining. Lanai outdoor living products can make it so much easier to enjoy the outdoors.