The PAIA
Enjoy the outdoor life. Whatever the weather!
Protection against the wind, rain and UV-rays – but also a great feeling of fresh air with the Lanai retractable canopy.
If you would like to enjoy the sun, just push a button – and the fabric opens out. If the weather gets bad, just close the canopy again. You are protected from the rain in no time – without leaving your patio.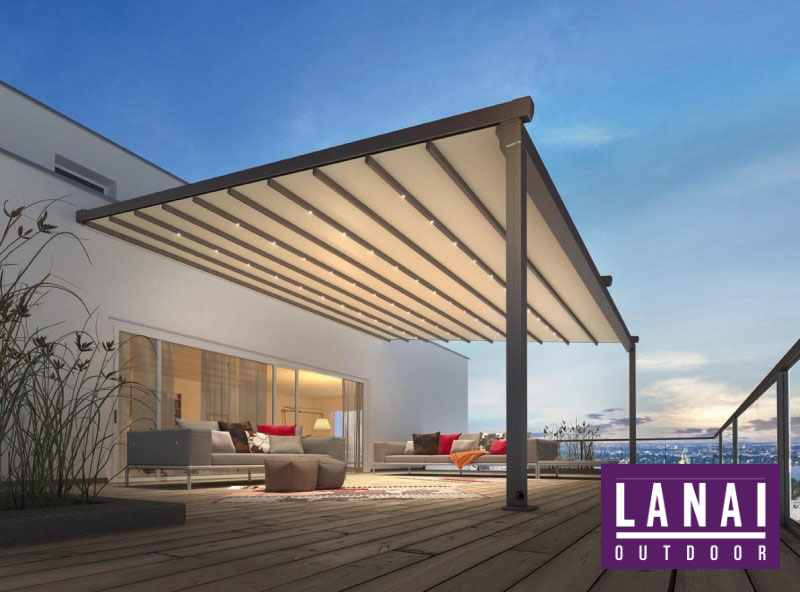 ~ click the images above to view in a larger format ~
Convertible Weather Protection
These elegant pergola awnings protect against wind, rain and UV radiation.
In addition to providing shelter from the weather above, there is the option of adding vertical awnings or all-glass elements.
These retractable awnings can be extended and retracted as required. The rainproof PVC awning has a very high tensile strength and is tear-resistant and light-resistant offering the comfort on your patio.
The rigid construction offers a combination of robust aluminium transoms and solid supports which offer outstanding wind stability.
High-power LED spotlights can be integrated into the transoms to give your covered patio a pleasant atmosphere.
Recent Retractable Canopy Installations
Nicola
2020-06-03T16:05:26+00:00
A stunning installation of two Paia's installed side by side in North London. This allows the customer to be able to retract the roofs independently.
Nicola
2017-01-17T14:26:04+00:00
This installation uses a combination of the louvered roof canopy together with the retractable canopy. This installation combines the louvered roof canopy with retractable canopies offering different roof styles.  This in addition to a side blind which encloses an area giving added protection from the elements as well as providing