Resilient and long-lasting: our extensive range of folding arm patio awnings are a combination of high-calibre design and premium technology.
Add a Little Colour
Our new fabric range is both water and dirt repellent while the spinneret dyeing process locks the pigment into the fibres giving them their consistently brilliant colour. Our garden awnings are perfect for enjoying the weather all year round in the UK.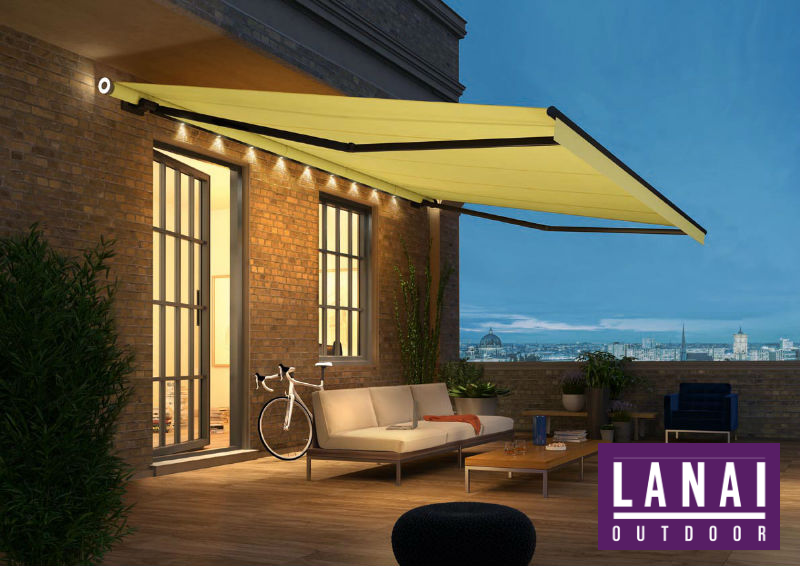 Why Choose Awnings from Lanai Outdoor?
A garden patio awning can give shelter from the rain or be used to block out the harsh sunlight in the summer months.
Our patio awnings are perfect for covering your garden furniture, keeping it protected from the elements as well as protecting you too.  Start enjoying your garden to the fullest and make the most of your outdoor space.
Our stylish and technically advanced patio awnings suit both home and commercial properties. We have plenty of designs to suit your taste. Our design team work directly with you to achieve the desired functionality and aesthetic appeal.
Add a Little Colour
Our new fabric range is both water and dirt repellent while the spinneret dyeing process locks the pigment into the fibres giving our patio awnings their consistently brilliant colour.
Lighting & Heating
You have the option for integrated LED lighting to extend the use of your outside space into the evenings. Powerful LED spotlights (that last for 30,000 hours) cast a pleasant, warm white light even when your patio awning is retracted.
Area to Cover
With options for one awning to cover up to 6.5 metres wide with a projection of up to 4 meters.  However, you can always have them side by side to cover a wider area of your patio and garden.
Impressive features for the Lanai range of Awnings
The Lanai patio awning range stand out for their timeless classic design, hand in hand with groundbreaking German technology. Made to shade both large and small areas, they blend in harmoniously with their surrounding architecture. The attractive shapes of the cassettes adding a sophisticated element. A wide range of tempting and practical optional extras make them easy to operate and wonderfully convenient while also extending their lifetime.
Our patio awnings stand out for their high-quality materials and aesthetic look and shape.  The result is ultramodern technology in a contemporary design.
The folding arm gives very high tension force to ensure that the fabric is exceptionally well positioned.  Its resilient high-tech belt has undergone 100,000 cycles in a fatigue test, which we back up with a 10-year warranty.  Drop-forged aluminium has been added to the arm joint for even greater stability.
You have the option for integrated LED lighting to extend your use of your outside space into the evenings.  Powerful LED spotlights (that last for 30,000 hours) cast a pleasant, warm white light even when the awning is retracted.
Sophisticated and Contemporary Design
Living surrounded by nature and relaxing in their own green surroundings at any time: this is something that home owners with a patio and garden can enjoy – as long as the outdoor temperatures allow it. Yet for many people, their patio is much more than just their personal space at home. As a space for self-expression and representation, it now plays a role which is almost as important as the sitting room. Home owners are therefore paying an equal amount of attention to the choice of patio designs, garden furniture, outdoor kitchen facilities and awnings as they are to their interior design and furnishings.
Stylish sun protection in a minimalist design
Whether it is playfully Oriental, Mediterranean, pure with a hint of Zen, or with a lounge ambience: the design of the patio and its furniture usually matches the style of furniture that is primarily used inside the house. To ensure that the awning fits perfectly into the picture as an obvious and indispensable patio accessory, specialists like Lanai offer models for every style of home living. With a selection of models for those who prefer purity of design will find stylish sun protection for those hot summer days.
Elegant appearance due to reduction to the basics
An almost invisible support pipe lends the model which has been honoured with a design prize a minimalist and reduced design. Visually, the textile is practically unbroken by the roller tube and slim support arms, so that the awning appears to float over the patio. The open design without a cassette emphasizes the lightness of the awning. Sideways, the roller tube ends with two elegant LED rings, with which the floating character is further highlighted. These are optionally available in combination with an LED light bar. The LED lighting immerses the patio in soft light which it is possible to dim to suit your mood. Single-colour fabrics support the clear, reduced design of the awning. Those who prefer things to be livelier are able to choose freely from over 150 fabrics. To go with this, the frame is available in almost 50 colours and additional trend colours.
When buying an awning, quality pays for the long term
Sun and wind, the damp and frost: awnings on the house façade, over the balcony or the patio consistently have to resist the impact of capricious weather conditions. Home owners should therefore avoid buying cheap products. Because the performance of the technology after several years, the degree of wind-safety with which the frame is attached to the house, the supporting components' levels of corrosion-resistance, and whether the awning fabric will keep its looks for a long time all depend to a great extent on the quality of the chosen product.
Long-lasting colouring, secure mounting
It is often the case that considerable variations can be seen if one considers the awning fabric which is used, for example. Lanai use a German manufacturer because they only use Acrylic and polyester fabrics, the thread of which is spinneret dyed. Spinneret dyed means that the colour pigments are integrated in the fibres before they are spun into thread. This means that the stability of the colour is clearly superior than it is with awning fabrics which are only dyed after they are spun. When installed by an expert technician, the sun protection also offers clear benefits in terms of its mounting, as awning experts know the best way to achieve a secure anchoring and where the typical weak points can arise.
Awnings from the experts
Brand awnings are available in many different designs, patterns and sizes. It isn't always easy to decide which one suits your own purposes and goes with your home. Trained advisors provide help – for instance, with advice from the roller shutters and sun protection trade. They offer customised solutions which match both the requirements of builder-owners and those completing renovation work alike.
Lanai offer three patio awning categories:
Cassette Awning

This keeps the awning fabric and mechanism protected from the elements in a clean and stylish cassette.
Semi-Cassette Awning

With this awning, the fabric as well as the mechanical parts for the awning roof and the retracted drop profile are tucked away safely.
Open Awnings

An open awning is a suitable option if there is an overhand or balcony to protect the awning from the elements.
Awning – with or without a cassette?
Awnings without cassettes are suitable for fitting outside if the wall mounting is completed at a weather-protected location, such as under a balcony or roof overhang. If the awning is to be fitted to a house wall without rain protection, however, cassette awnings are a good choice. In such cases, the rolled-up fabric disappears into a cassette which closes tightly and is well protected against the rain and the wet weather. Further information and tips on awning selection, please contact us to arrange a visit from one of our designers.
Recent Awning Installations
Nicola
2021-11-02T15:09:36+00:00
The Koa from Lanai, installed in Harrow (HA3) this month. The all weather remote controlled Koa, 3.1 metres wide with a projection of 5 metres. This customer is very happy with their new canopy.